Orientek T45 Fiber Optic Fusion Splicer Fiber Splicing Machine Fiber Optic Welding Machine Fiber Splicer 7s Splicing 18s Heating
• Industry's First 3 Year Warranty
• Fast splicing 7S, highly efficient heating 18S.
• Languages: English & French & Portuguese & Spanish
• 4.3-inch high definition capacitive touch screen
• Compatible cable/fiber: 0.25mm/0.9mm/3.0mm/flat/drop cable
• Electrodes: 4,000 times spliciling without ex- change. 
Orientek T45 Fiber Optic Fusion Splicer Fiber Splicing Machine Fiber Optic Welding Machine

Industry's First 3 Year Warranty
ORIENTEK, do hereby warrant our Fusion splicer、OTDR products, be free from defects due to defective materials or workmanship for a period of 3 years from the date of shipment.
【Graphical interfaces and touch screen】
------- Orientek T45 Fusion Splicer uses entirely new GUI and touch screen in design. Operators can set up the splicer and get to know relevant information of it simply and directly by graphical interfaces.  
【High Accuracy and Low Splice Loss】
-------- Orientek T45 Fusion Splcier 7s fast splicing, 18s highly efficient heating. Auto checks fiber end-face technology, temperature and pressure compensation, high-speed image processing technology and special precision-positioning technology ensures high accuracy and low splice loss.    
【Intelligent heat shrink】
-------- Orientek T45 Fuion Splicer with a  detection unit is embedded in the heater. The heating function will only be enabled when the protection sleeve is put in the heater, to avoid mishandling.
【Carrying case】
-------- Orientek T45 Fusion Splicer's carrying case is novel in design and light in weight, has built-in compact working bench. Open or close the cover can turn it to a working bench.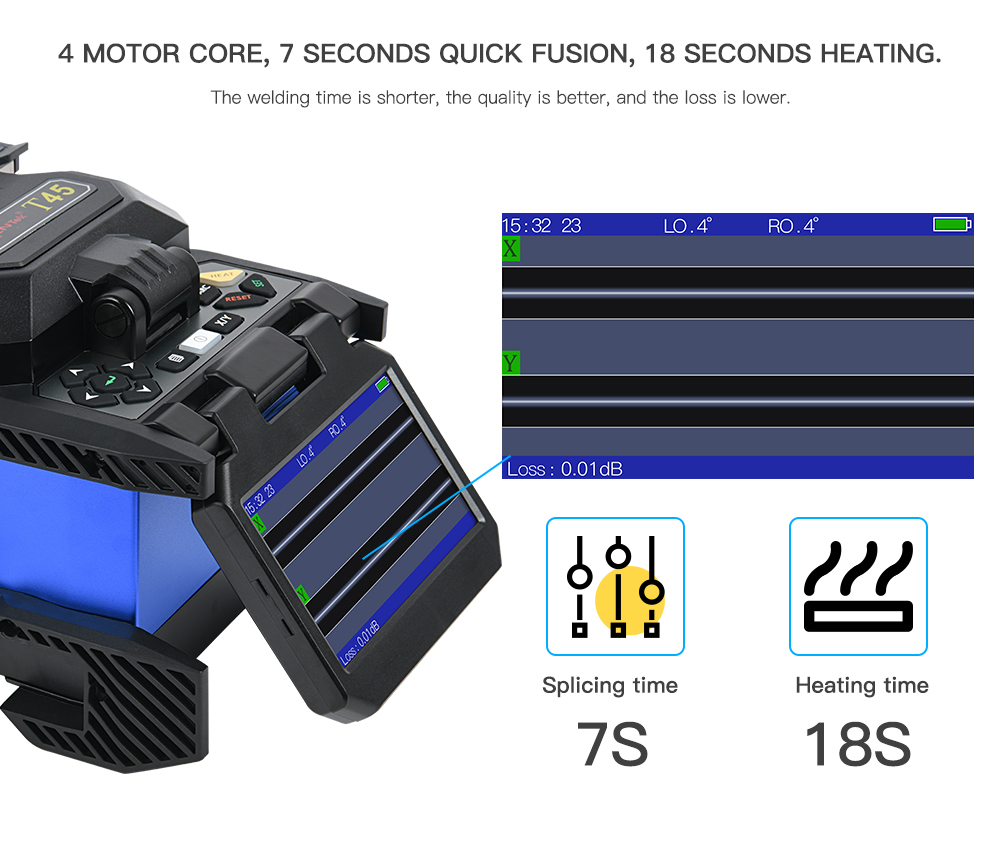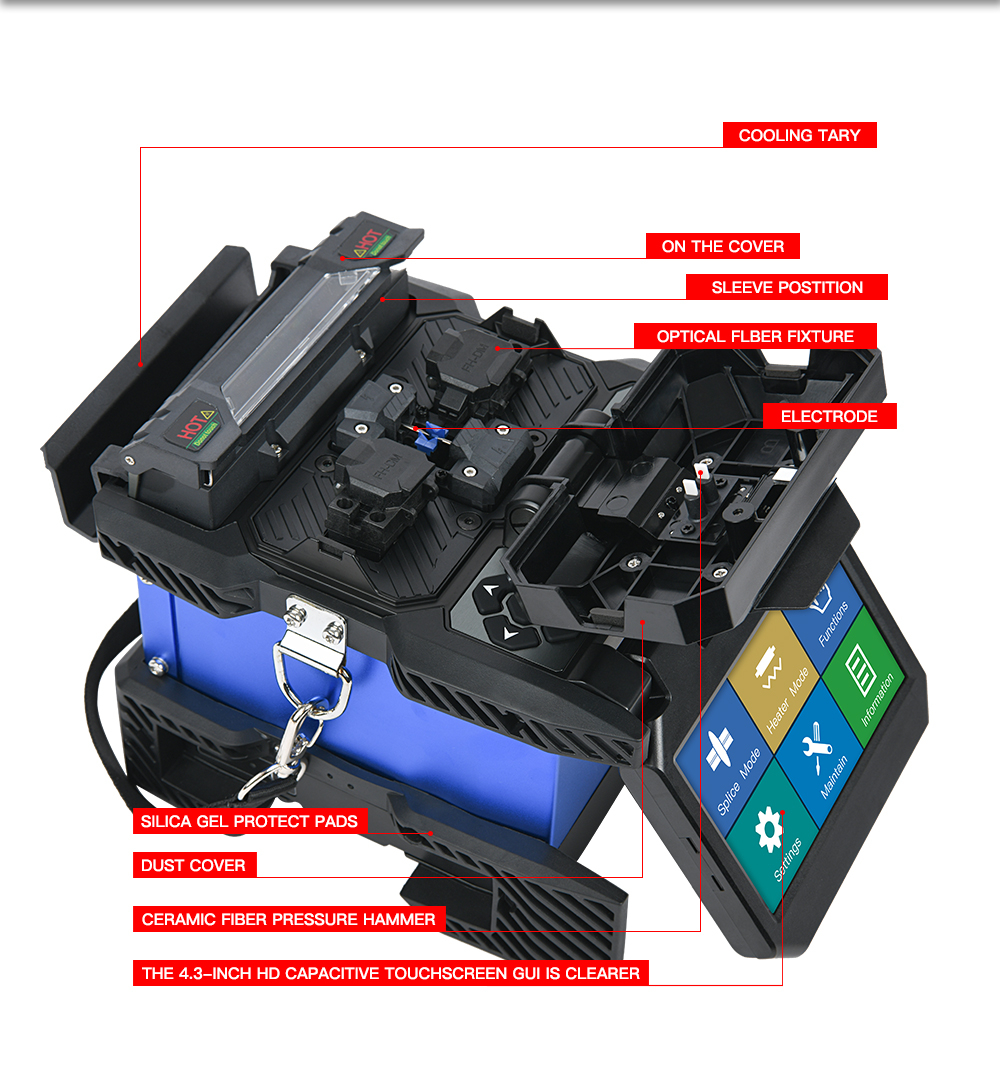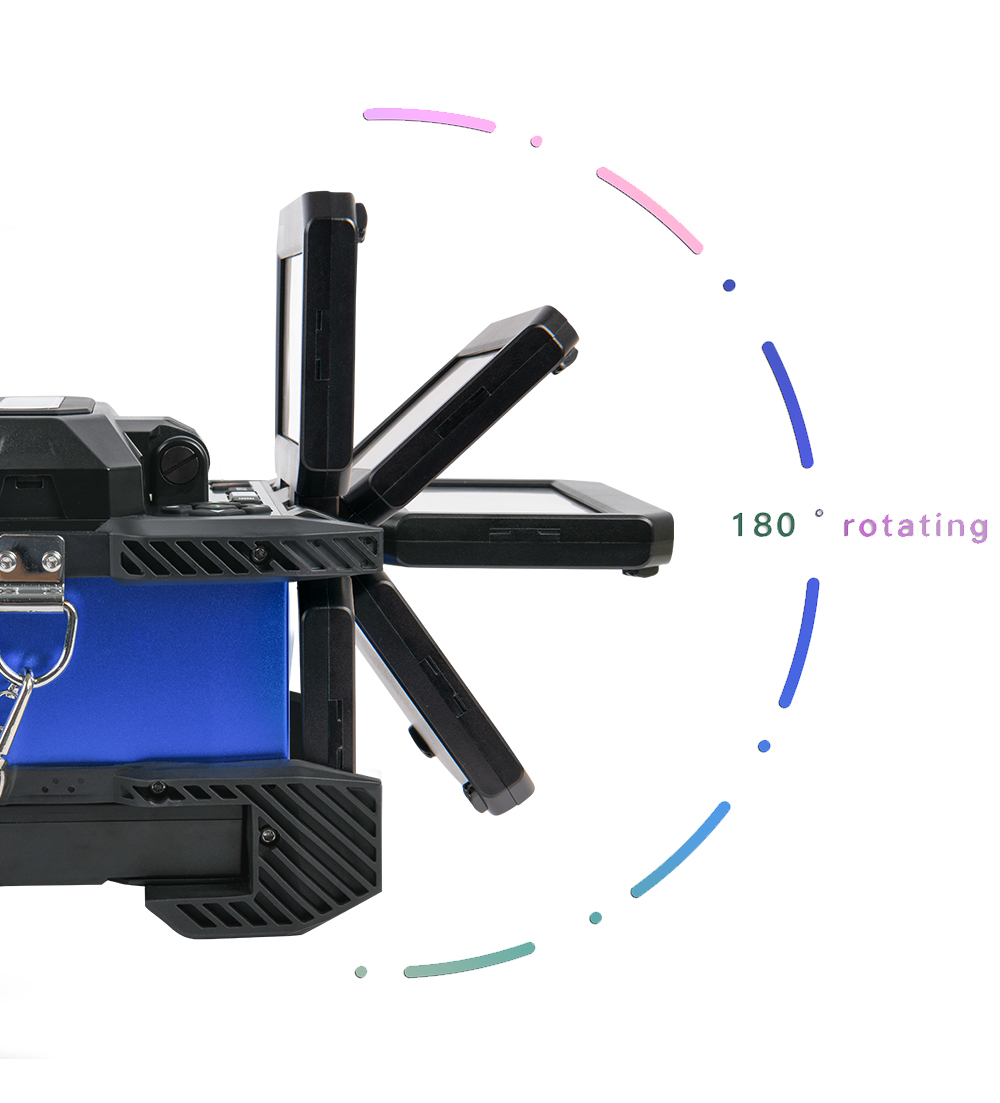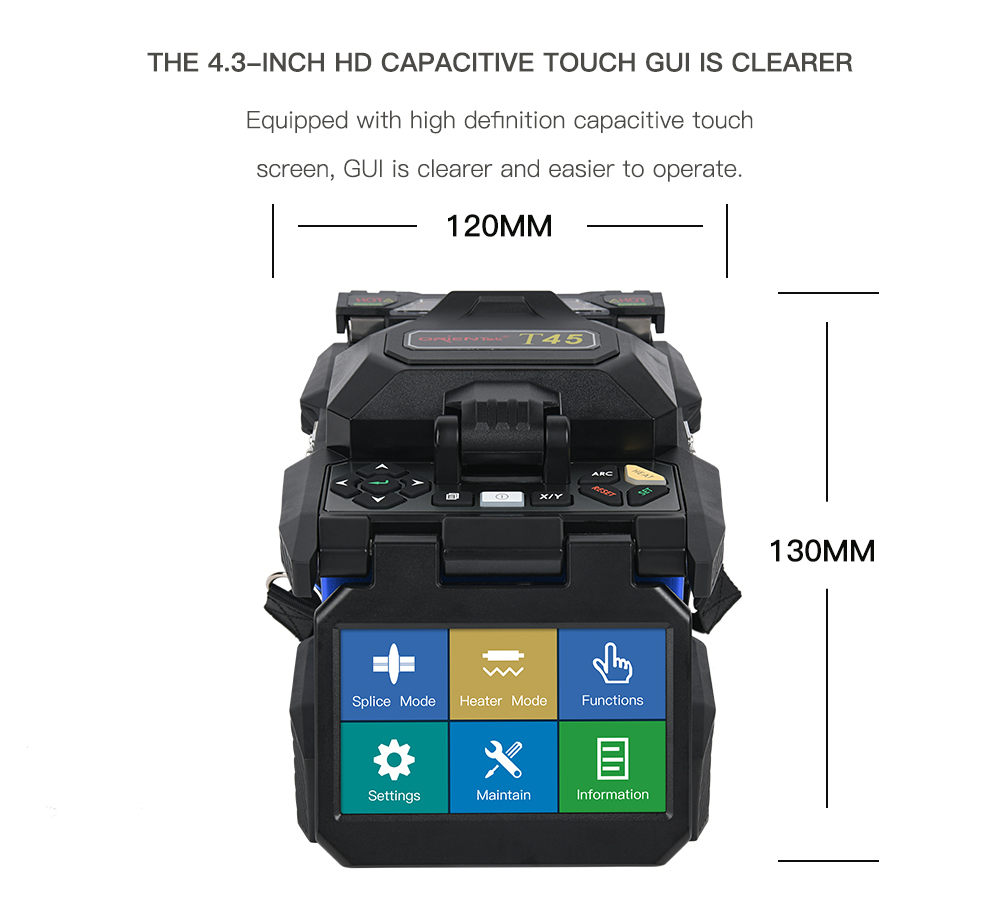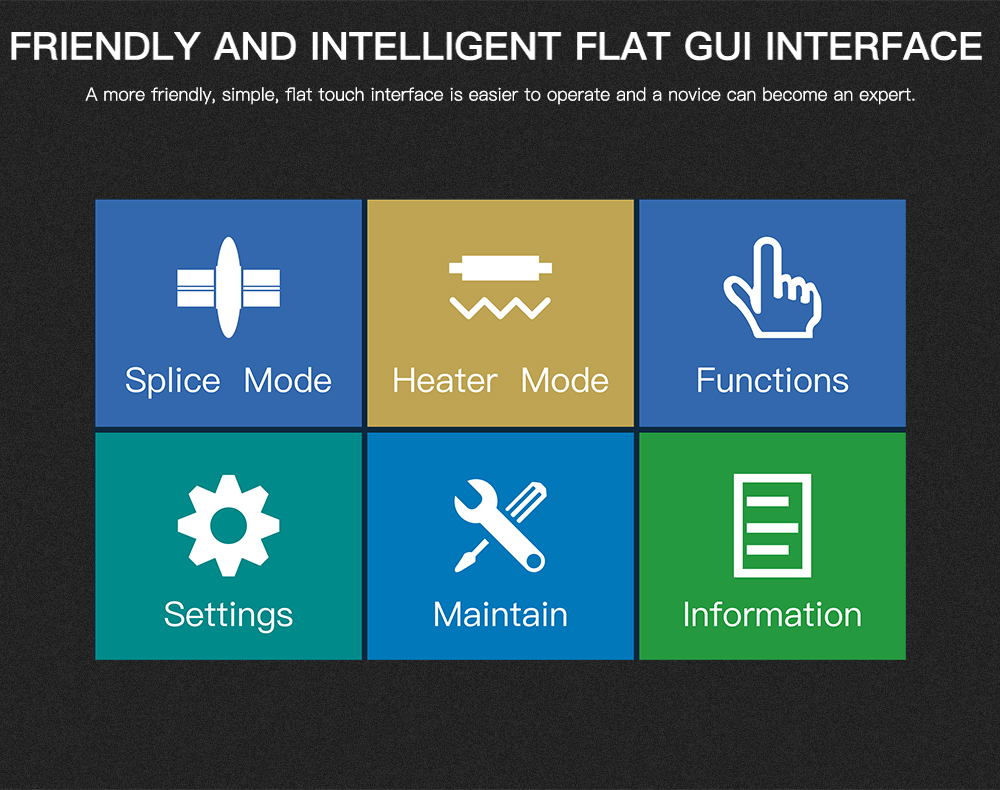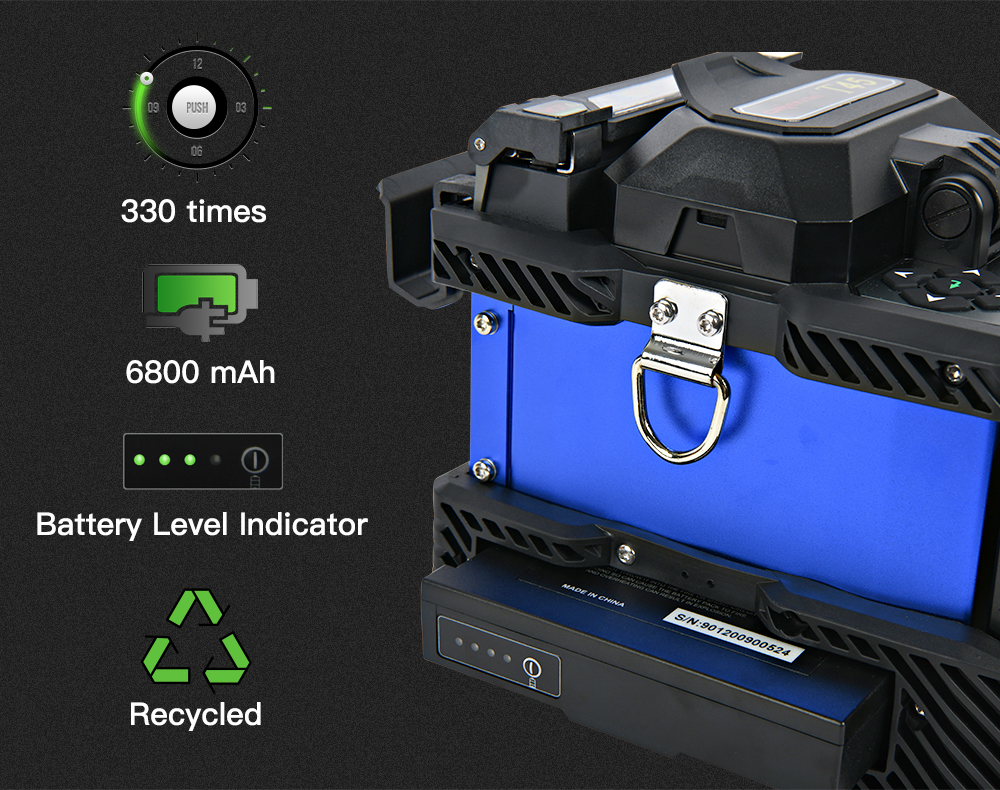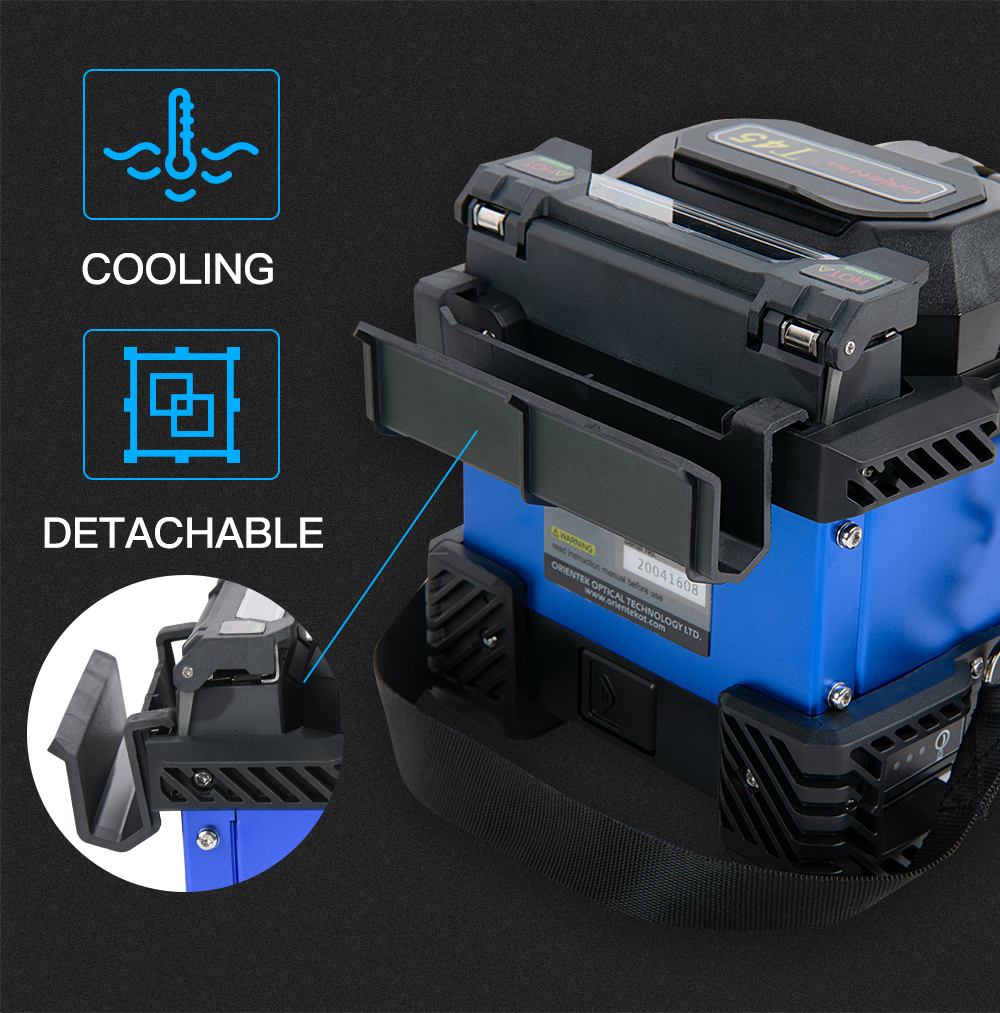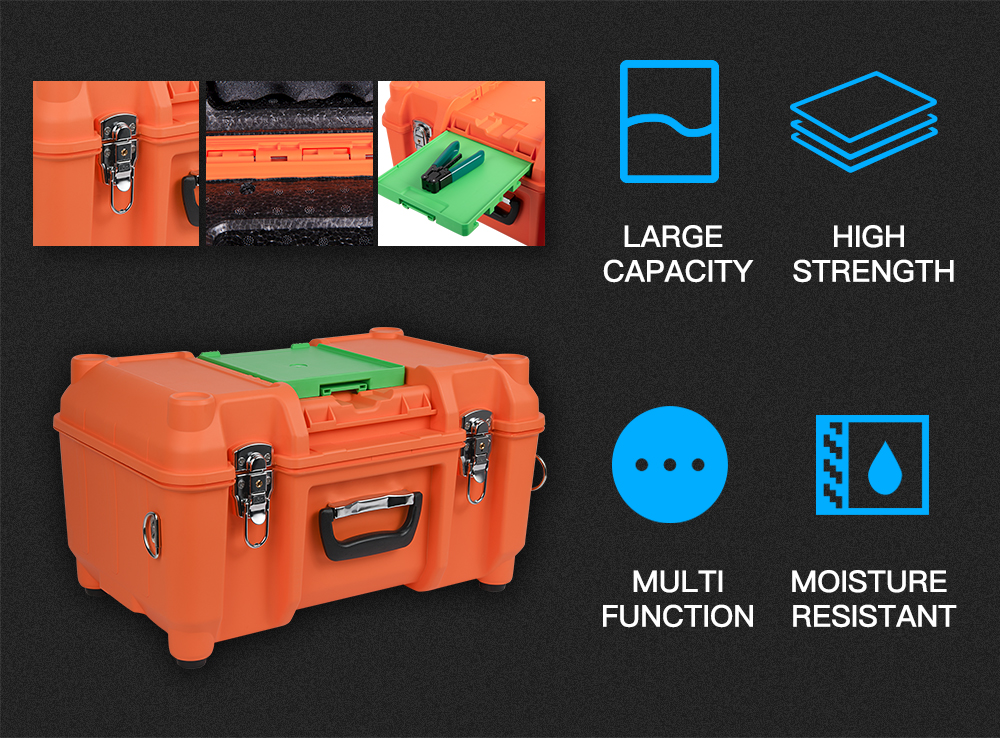 Orientek T45 Fusion Splicer Specifications:
| | |
| --- | --- |
| Applicable fibers | SM/MM/DS/NZDS |
| Compatible Fiber / Cable | 0.25mm/0.9mm/3.0mm/ Flat/Drop cable |
| Fiber cleave length | 250μm(Coat): 8 ~ 16mm, 900μm:16mm |
| Typical splice loss | SMF : 0.02dB, MMF : 0.01dB, DSF : 0.04dB, NZDSF : 0.04d |
| Return loss | > 60dB |
| Splice Time | Typical 7sec |
| Tube Heat | Typical 18sec with S-160(60mm) Tube |
| Program | Splice Mode: 100, Heat Mode : 50 |
| Storage of splice result | 4,000 results |
| Size | 120W*130L*154H(include Monitor) |
| Weight | 2.2Kg(Exclude Battery) |
| Terminal | USB,VGA, External Power |
| Power | DC 14.8V Battery (7800mAh),100~240V AC Adapter |
| Additional power | DC 12V automobile power outlet available |
| No of splice/Heating with Battery | 330cycle, lithium polymer batteries |
| Mechanical proof test | 2N / 4.4N (OPTION) |
| Display | Two CMOS cameras and 4.3'' color LCD monitor |
| Fiber view and magnification | X/Y 330X, 170X |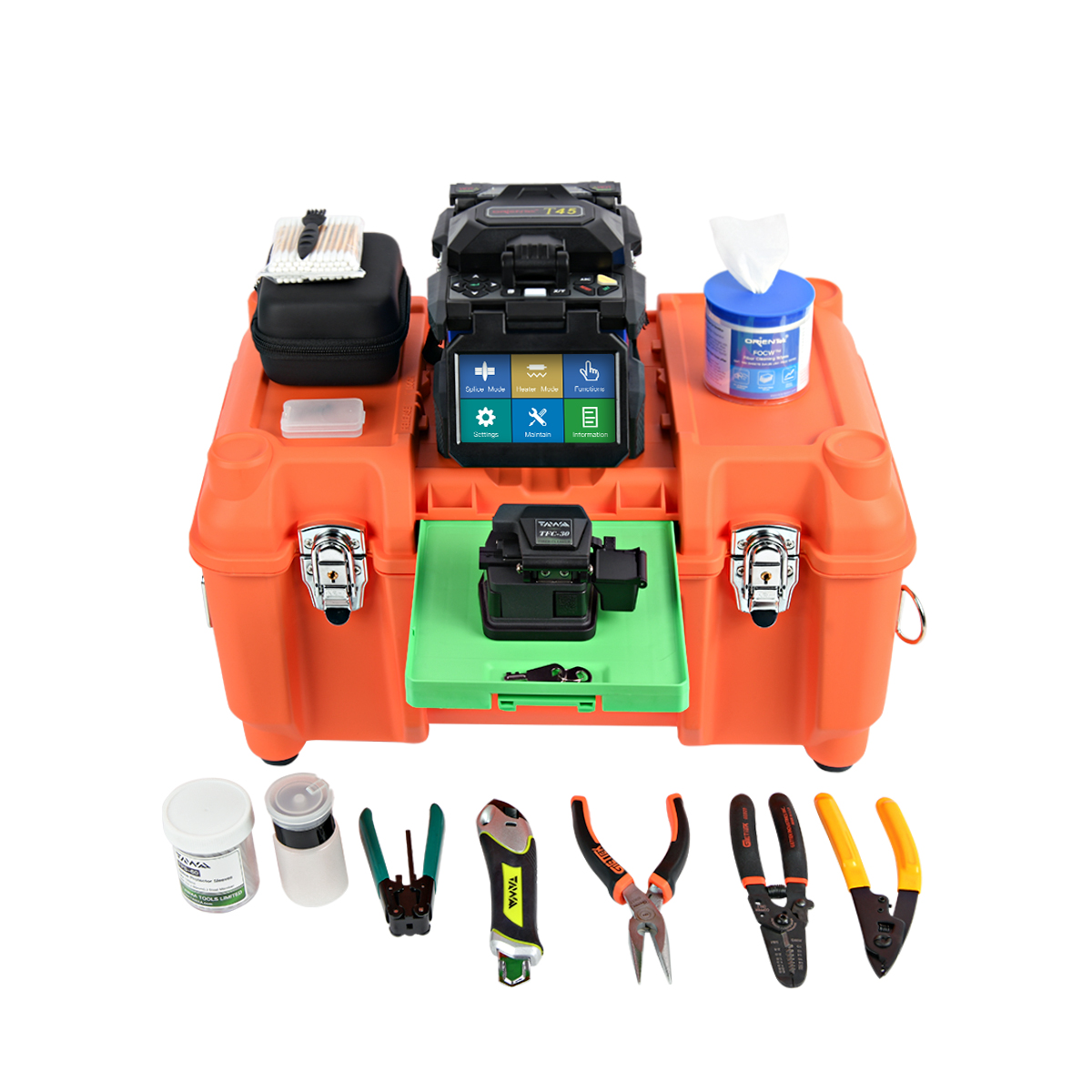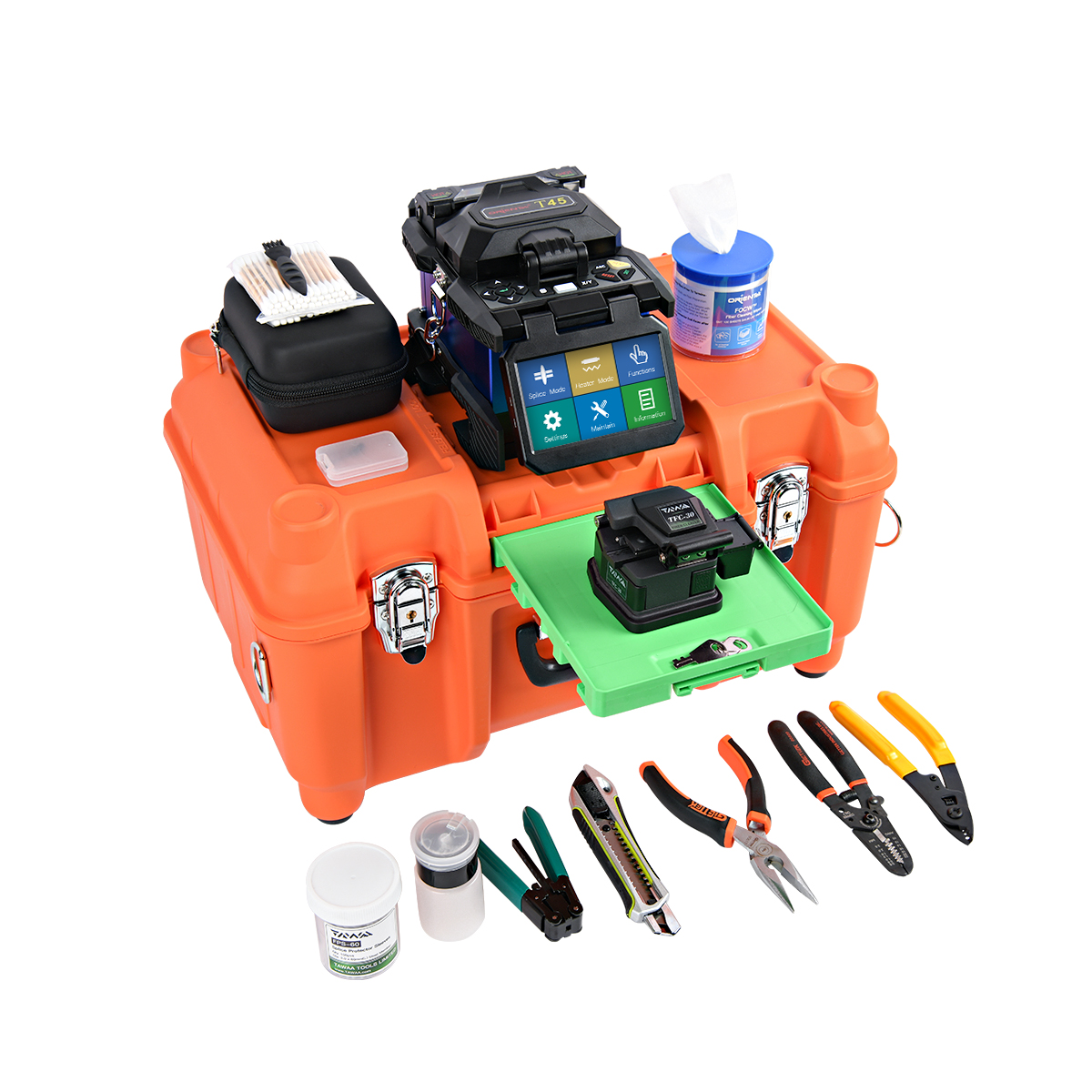 Standard Package:
| | |
| --- | --- |
| 1 | T45 Fusion Splicer |
| 2 | T30C High Precision Fiber Cleaver |
| 3 | Tri-hole Fiber Coat Stripper |
| 4 | Kimwipes Lint-Wipers 280 wipers/box |
| 5 | Instruction CD |
| 6 | Fusion Splice Protection Sleeves 500ea |
| 7 | Internal Battery |
| 8 | Charger, AC Power Cord |
| 9 | Spare Electrodes (one pair) |
| 10 | Cooling Tray |
| 11 | Alcohol Pump Bottle |
| 12 | Blower Brush |
| 13 | User Manual |
| 14 | Carrying Case |