ORIENTEK TIP-600V Fiber Optic Inspection Microscope, Fiber Optic Inspection, Fiber Optic Inspector Probe
Features:
● Compared with traditional tools, its unique single-way of focus control greatly improves the work efficiency. No matter left or right hand, forward or backward operation, it can quickly get the end face inspected and displayed clearly.
● 4000mAH large capacity lithium power, 20 hours standby.
● Real time video, support extend t-flash card,quick check the pollution degree of female connector and male conector. Meanwhile, Support data playback to facilitate inspection and data statistics.
● 400X Magnification video fiber optic connector inspection probe with excellent sensor to ensure clear display and accurate measurement, with quick response.
● 1/3 inch sensor, 300,000 effective pixels, 3.5 inch HD LCD display to offer you strict examination of polish quality
● Equipped with SD card, It can also easily access to PC or laptop through SD card equipped with for further better analysis.
Orientek TIP-600V Fiber Optic Inspection Microscope
Description:
The 400x Fiber Optic Inspection Microscope  is equipped with large capacity lithium-ion batteries with a capacity of up to 4000 mAh. Standby time is up to 20 hours, which is suitable for the needs of workers who go out for a long time.

The machine adopts micro USB interface, charging standard is 3.7V, charging is more convenient and simple.The angle of the bracket can be adjusted by rotation at will, which is stable and convenient. From the perspective of ergonomics, there is no need to watch on a single hand-held screen.In line with ergonom-ics, comfortable grip, compact, light and durable.

Real-time video recording and expansion of TF card, convenient and fast recording of measurement information. Support data playback to facilitate inspection and data statistics.The panel design is concise, the operationis simple and practical, and the use is more humanized.
This portable LCD intelligent microscope is used for inspecting fiber terminations and can be used for troubleshooting. Dirty connections cause a large percentage of fiber network failures and sometimes even damage to the fiberglass. The easiest prevention is to find the dirty connections asap. This product can offer you clear inspection. It is an indispensable optical fiber end face inspection equipment for operators and engineers in field operations and printing plate making maintenance.
Opt for variety of connector type. Fiber Optic Connector Inspection Probe Suit for FC/SC/ST 2.5mm Universial APC/ UPC Male Connector Head and SC/APC SC/UPC Female Connector Head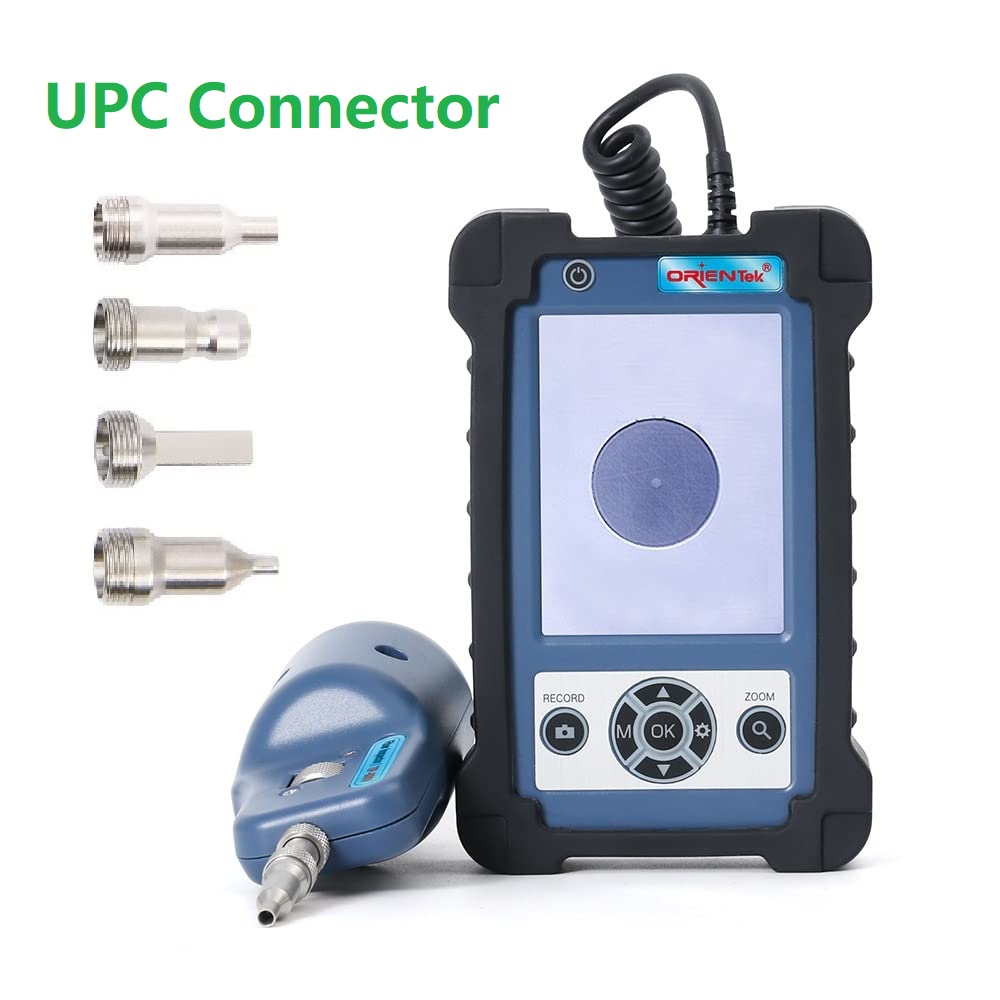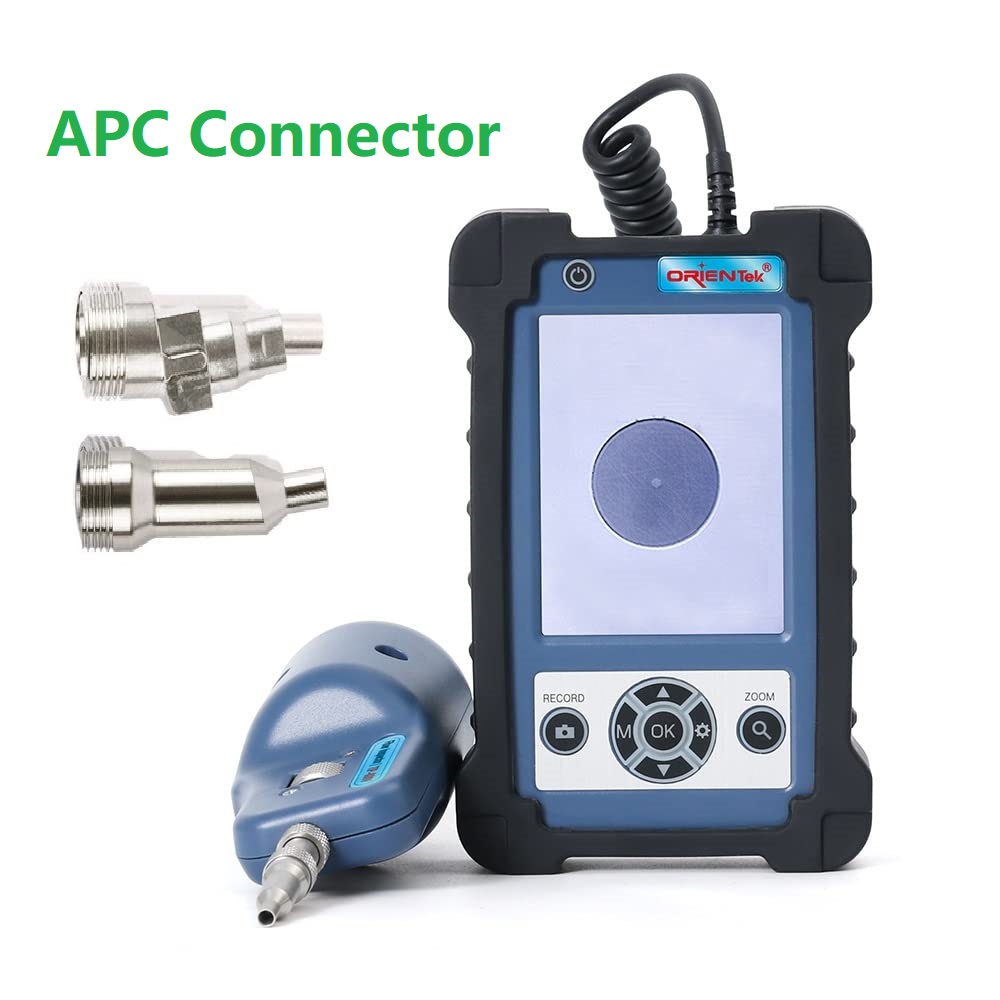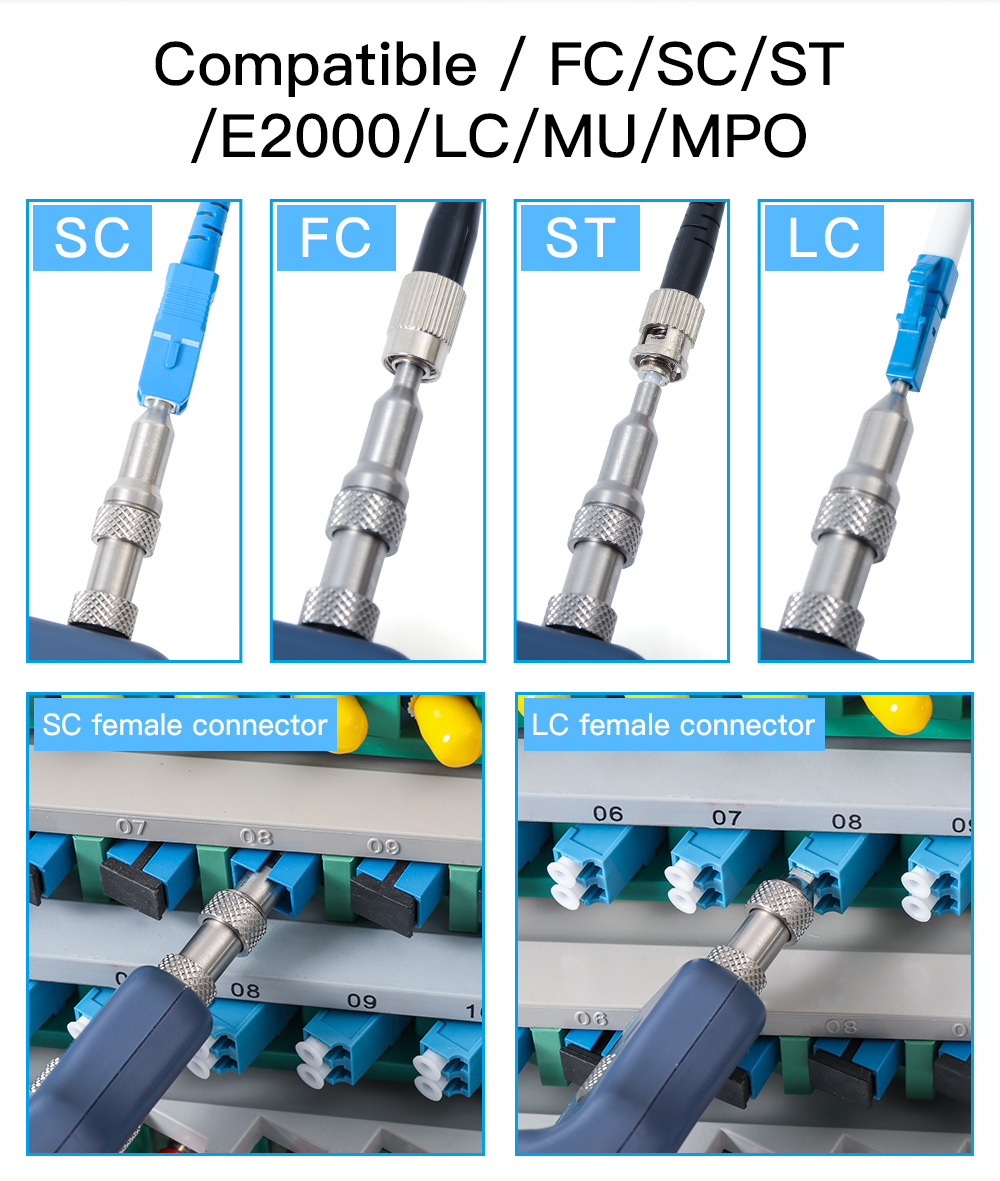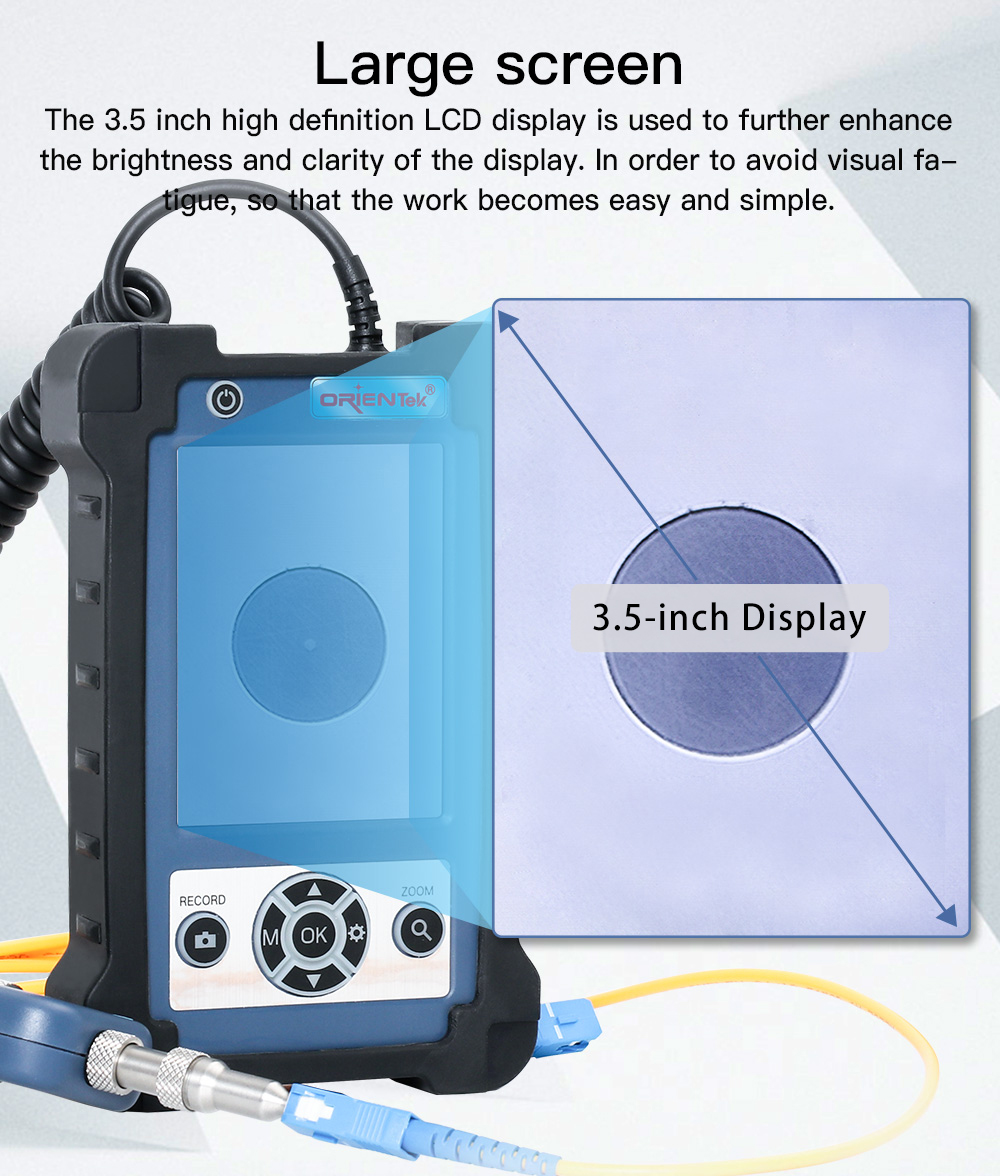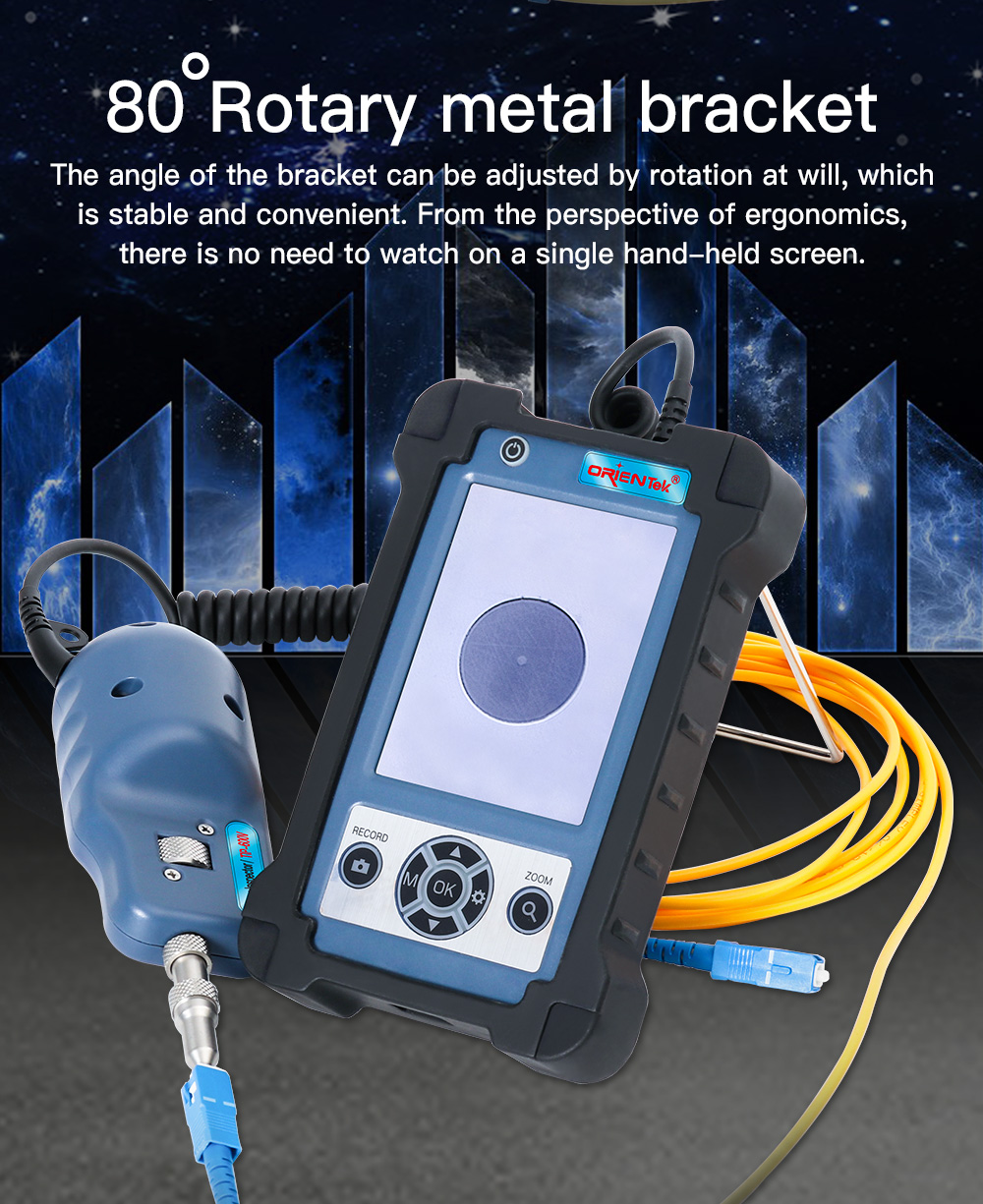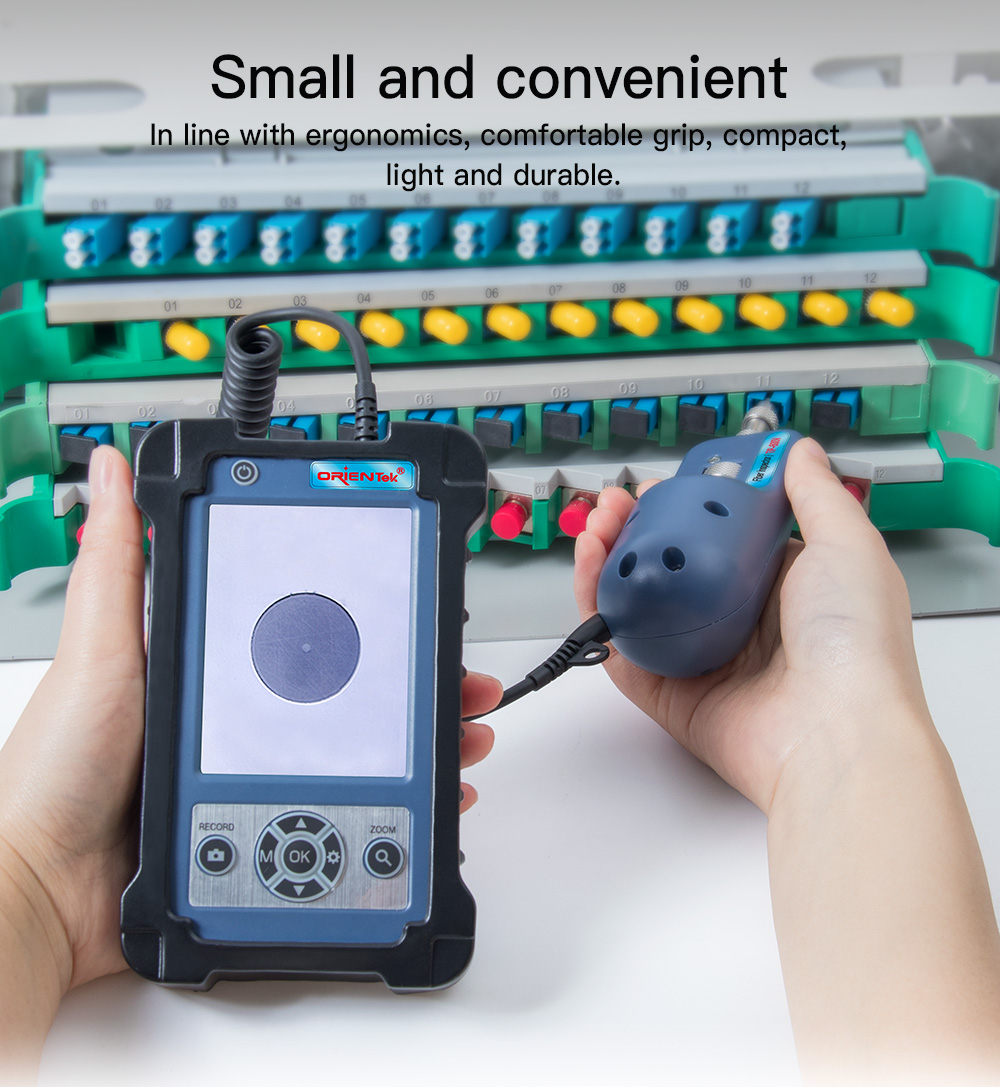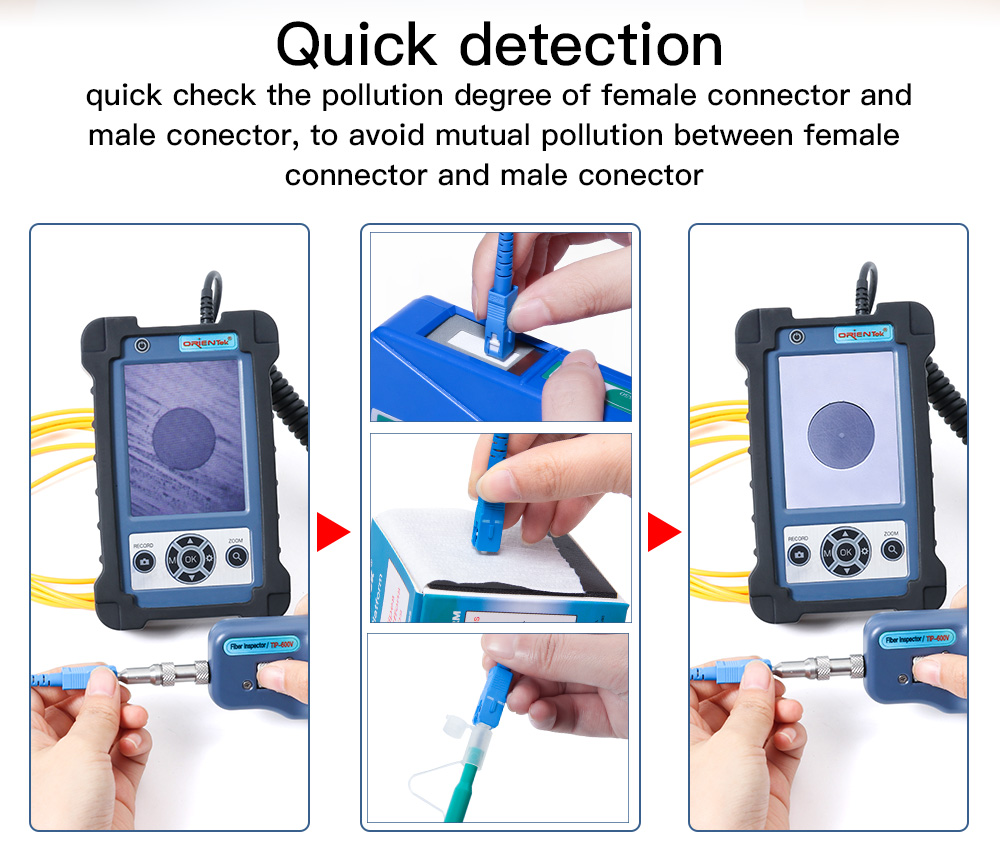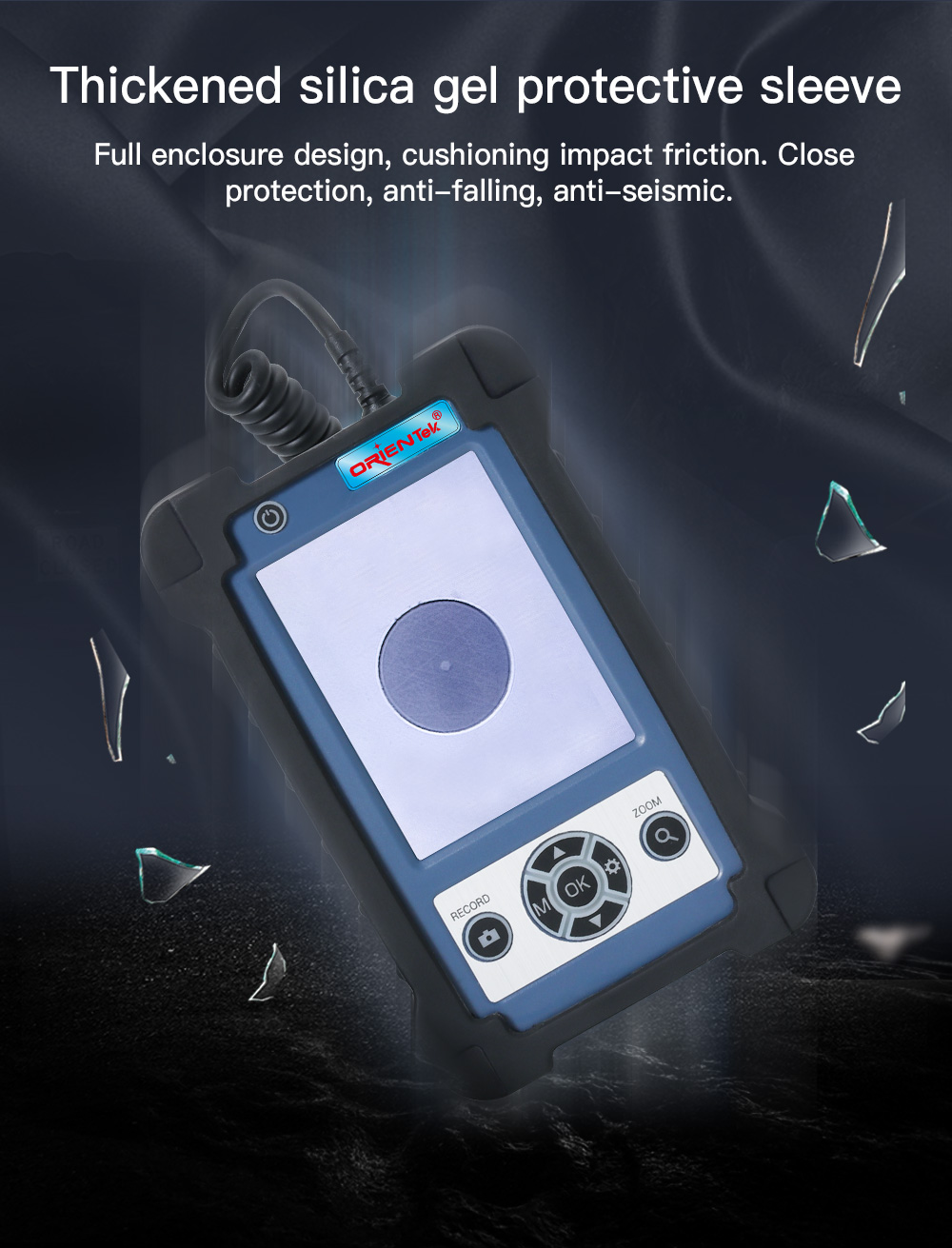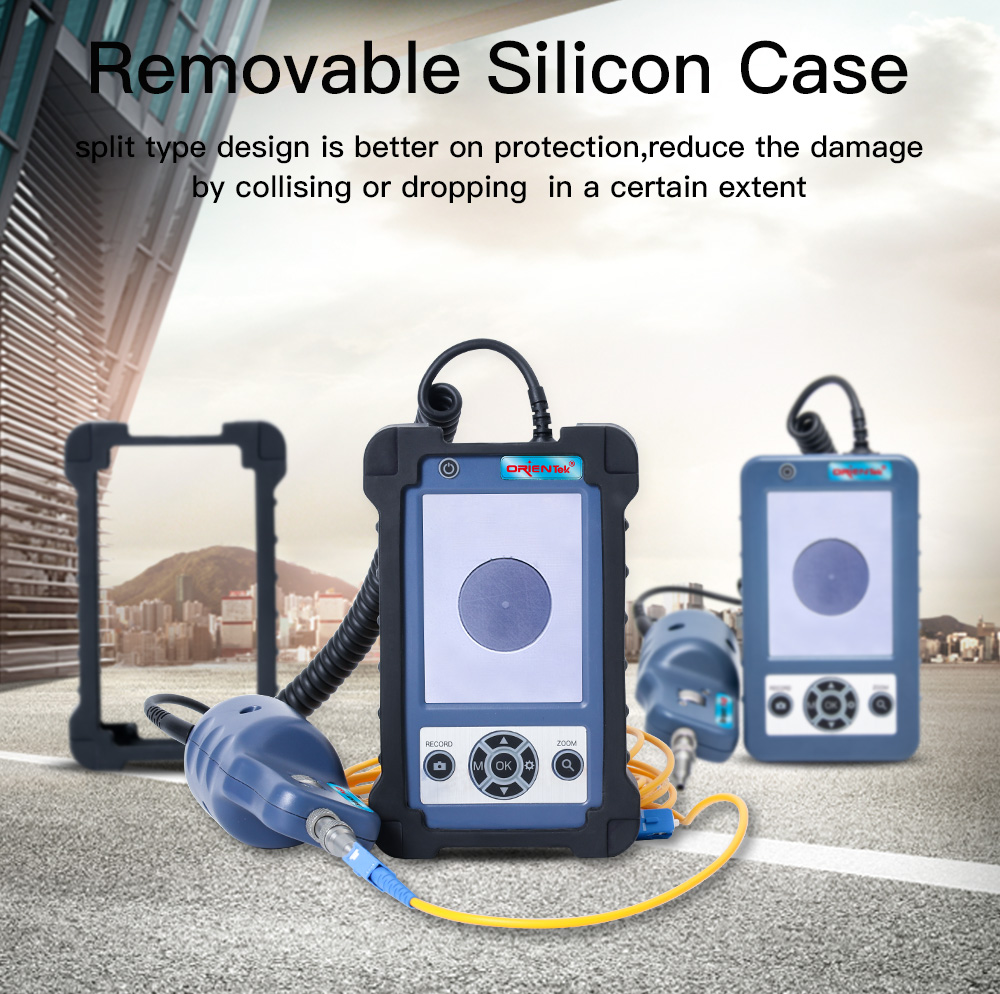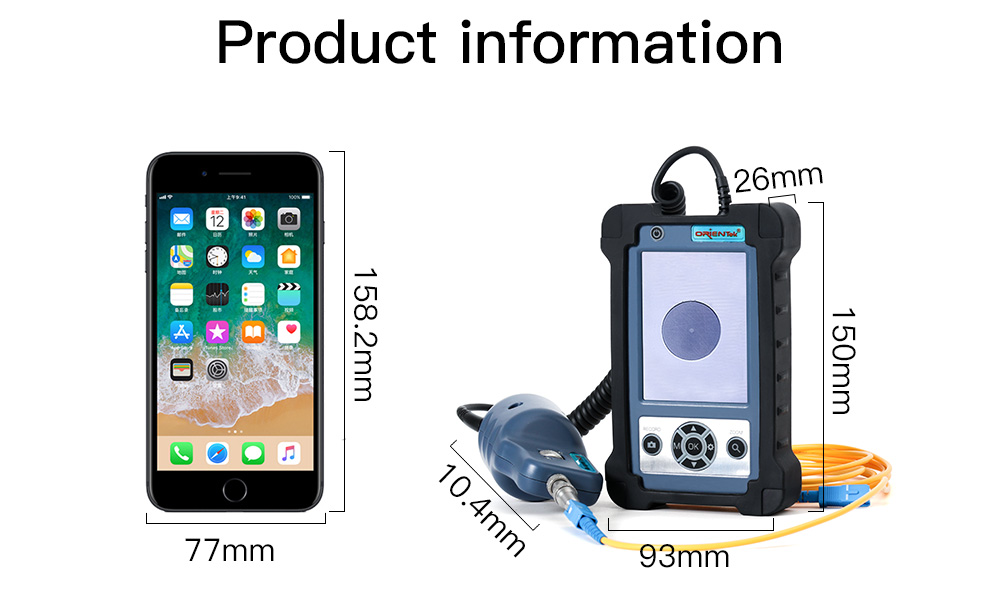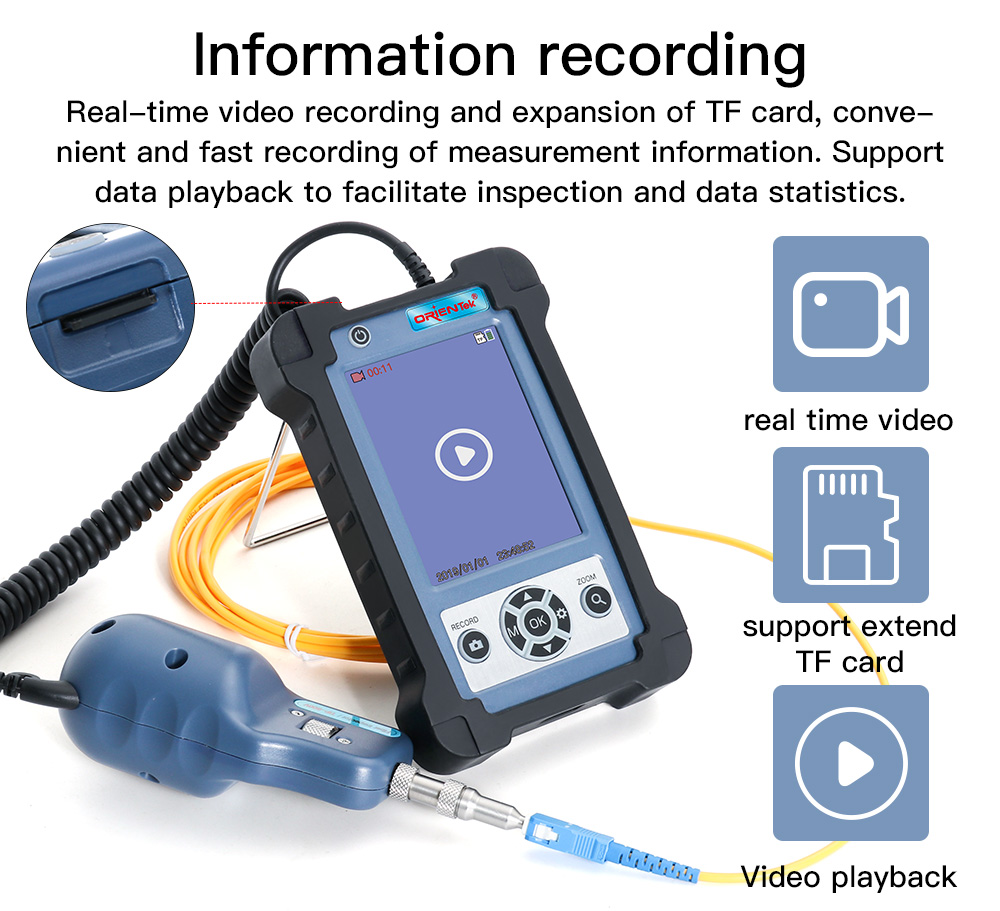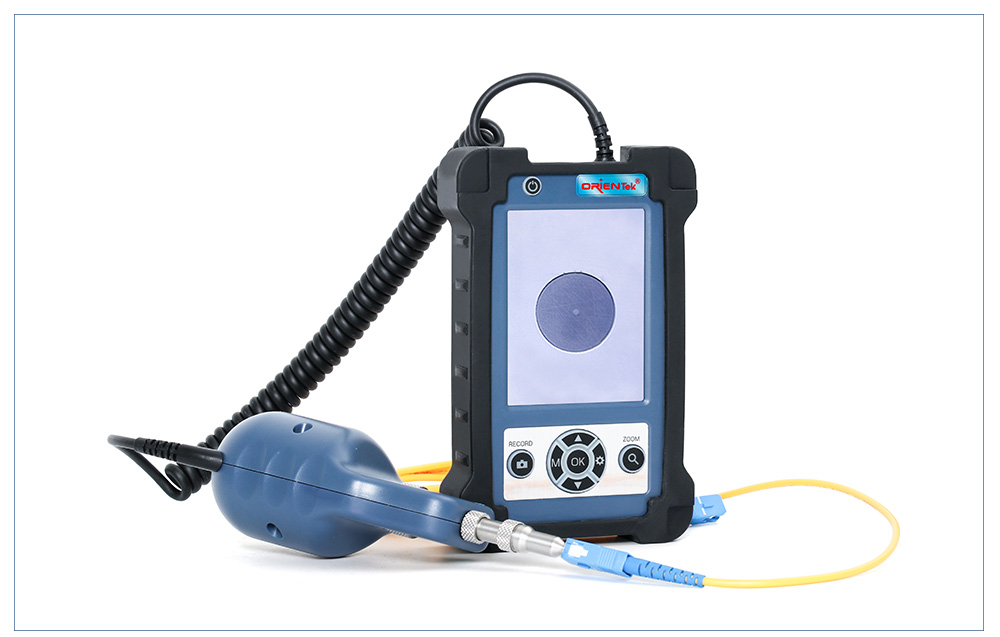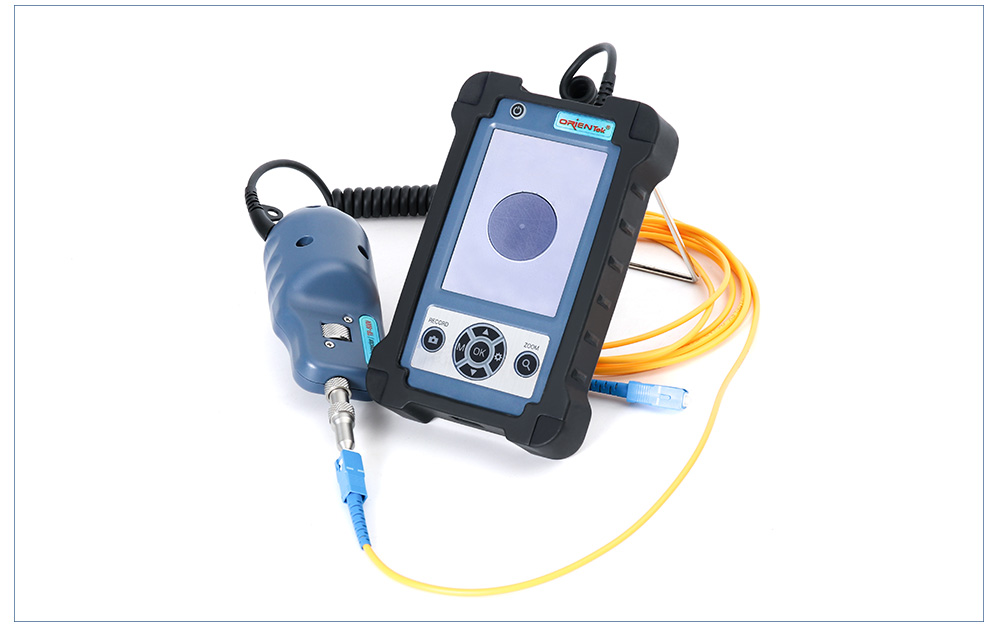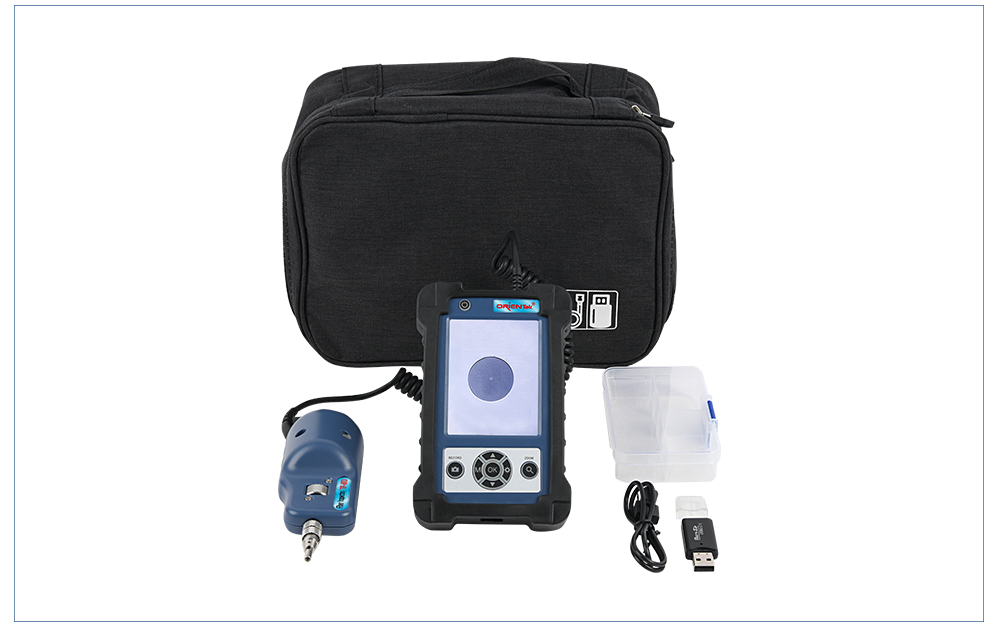 Specification:
TIP-600V probe

Magnification

400X

Resolution(μm)

surpass 1.0

Visual range(μm)

0.316*0.285

Dimension(μm)

235(W)*95(D)*30(H)

Image Sensor

1/3 480

Storage Temperatrue

-18℃~35℃

Weight(kg)

0.11








3.5-inch LCD display

Image

Image size(mm)

22

Pixels

307200

 

Video

Frequency

25FPS

LCD screen

960*240 LCD

Video output mode

NTSC/PAL

Playback Format

AVI

 

User interface

Compatible memory cards

TF

Capacity

8GB

USB

1.1/2.0

Hard disk format

FAT32

 

Power supply

AC adapter

DC 5V/2A

Internal Battery

Lithium battery 4000Mah

Media Player

≥7

Weight(kg)/W*D*H(mm)

1.5kg/78*22*56